Blanca Slazar, Human Resource and Safety Manager
Blanca Salazar worked hard to get where she is today. At the age of seven, she left her home in Durango, Mexico to immigrate to Dallas, Texas. She worked through high school to help her mother and sister with bills, and later, as a working adult, received her Bachelor's in Business Administration from Northwood University. Before joining Woodmont Cabinetry in 2015, Blanca worked in HR for a data systems company and two other cabinetry companies. She has nearly 20 years of experience in her field, including 15 years in the cabinetry industry.
When she's not working at Woodmont, Blanca enjoys spending time with her husband, Michael, and their teenage son, Eric. Blanca is also an avid traveler. Having already visited many states like Hawaii, New Mexico, and California, she hopes to visit Jerusalem, Rome, and Spain in the future.
Fun Fact: Blanca is a soprano who loves to lead worship with her husband in their church choir. The church's pastors happen to be her in-laws!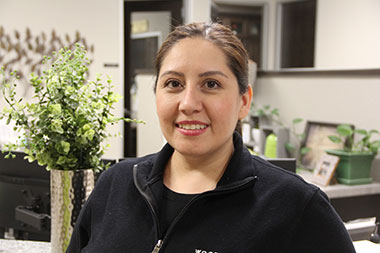 Blanca Salazar