Brian Edinger, National Sales Manager – Distribution Channel
Brian graduated from the University of North Dakota with a Bachelor's degree in industrial technology and engineering — "back when slide rules were our computers!" He has been in the cabinetry business for 38 years, having worked with three other cabinetry manufacturers prior to joining Woodmont Cabinetry.
Brian says he feels blessed to have a job with a company that shares the same family-oriented values as he; the culture inspires a hardworking, loyal team, and attracts such an ideal customer base. "Our customers not only share our same values but represent our product in a very professional manner. And, I'm proud to work for a growing company with such impressive product selection and availability."
So, what does Brian do outside of work? "I live a boring life," he jokes. "But I'm very involved with our church, where I'm an Elder, and where my wife, Cindy, is the Treasurer." Brian and Cindy have built a home in South Texas, where they plans to retire. When they're not helping out at their church, they enjoy working on their ranch and building furniture.
Fun Fact: Brian has a very loving, talented family, which includes: one fantastic grandson, Hudson; a Labrador named Sam; and Wesley, a very 'wascally wabbit'.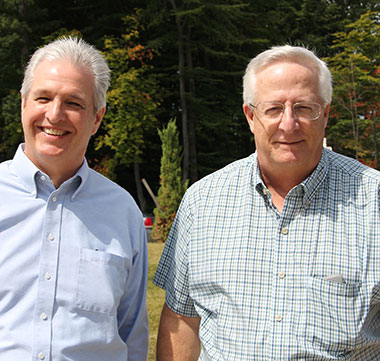 Brian Edinger (right)