Jennifer Tidwell Salzman, Board of Directors
To Jennifer, Woodmont Cabinetry is the very definition of a family business; she's been around the cabinetry industry her entire life. Jennifer has officially worked at Woodmont for four years, and brings both a Bachelor's degree from TCU and sixteen years' experience to the table.
What does she love most about Woodmont? "It blends my family and my work for ministry all into one, leveraging my ability to contribute to society," she says. Jennifer's passion for creating strong, meaningful relationships with both employees and customers is one of her greatest strengths. And she takes relationships very seriously – currently Jenn is serving as Executive Director for The Heights, an Ellis County family resource center. A project initiated by the Tidwell Family, the center works to unite other nonprofits together in service to victims of family abuse.
At church, Jennifer has been a member of the mom's group for eleven years, and a group leader for the past several years. Nineteen years ago, she married her high school sweetheart, a police officer; they have two wonderful sons. Spending time with family is a top priority, whether it's traveling, listening to music, or going to the movies.
Fun Fact: Jenn is still in contact with the 'little sister' she mentored in college via Big Brothers Big Sisters of America.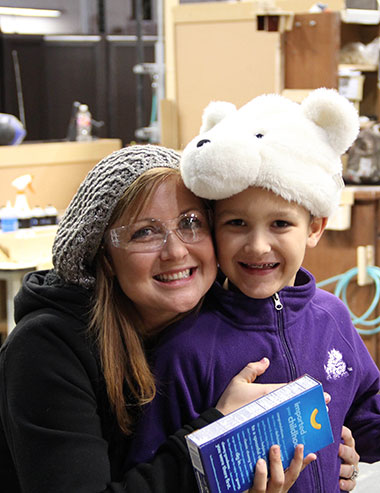 Jennifer Tidwell Salzman & Little Helper