Woodmont Cabinets Pass Multiple Kitchen-Ready Tests to Receive KCMA Certification
Although we tend to take it for granted, kitchen cabinetry goes through a lot. It withstands harsh cleaners, cold and heat exposure, heavy stacks of cans and goods, and all sorts of uh-ohs like spilled condiments and coffee. This is where Woodmont Cabinetry stands the test of time. For over 45 years, the Kitchen Cabinet Manufacturer Association (KCMA) has adorned only the highest-quality cabinetry with its seal of approval. Earlier this year, Woodmont Cabinetry received its ESP certification in honor of our devotion to environmental stewardship. Most recently, we also received the ANSI/KCMA A161.1 certification seal.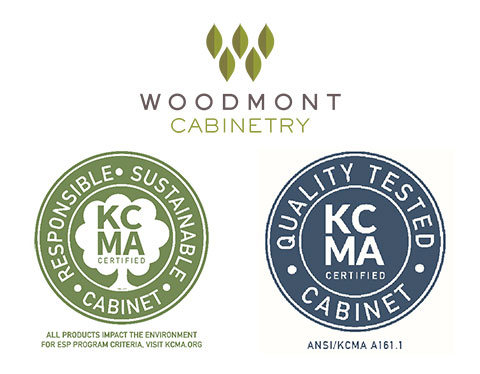 The ANSI/KCMA A161.1 certification requires extensive testing under rules set by the American National Standards Institute and by a consensus committee of the KCMA. Cabinetry must be tested for structural and operational integrity and finish quality. In order to receive this seal, our cabinetry underwent eight different categories of testing.
Of course, in order to truly test kitchen cabinetry, laboratory workers have to put them through a lot! Here are just a few of the tests that our cabinetry passed:
Our cabinet shelves and bottoms were loaded with 15 pounds per square foot, for an entire week. This proved their ability to carry weight long-term without sinking or coming apart.
Our mounted wall cabinets were incrementally loaded with 600 pounds. This showed that regardless of the load, our cabinetry and mounting system could stay intact and mounted.
Our shelves, bottoms, and drawer bottoms had a 3-pound steel ball dropped from 6 inches above – and they remained undamaged. This reflected their ability to handle dropped cans or other heavy goods in the kitchen pantry.
Our cabinet doors were pounded with a 10-pound sandbag, as they had to be able to withstand unexpected impacts – like a child who accidentally falls against cabinetry in the kitchen.
Our drawers were loaded with 15 pounds per square foot – then operated through 25,000 cycles of open-close, open-close. They remained fully operable with no failure throughout this test.
Our cabinet doors were placed in a 120F hot box with 70% relative humidity for 24 hours – and they came out with no evidence of blistering, checks, or other finish failures.
Our cabinet surfaces were covered in vinegar, lemon, orange, and grape juices, ketchup, coffee, olive oil, and even 100-proof alcohol for 24 hours. This tested for their ability to remain true to color without staining from exposure to all of the above.
With the ANSI/KCMA certification seal on Woodmont Cabinetry, we guarantee that our cabinets have passed the following construction requirements: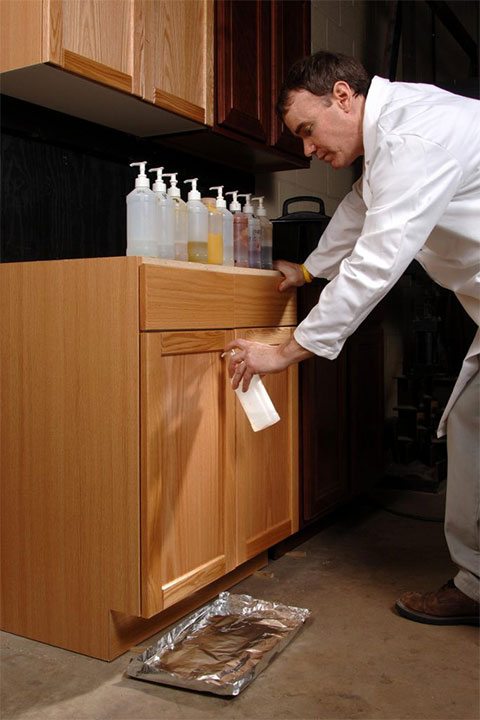 Cabinets must be fully enclosed, with backs, bottoms and sides for base cabinetry, and backs, bottoms, sides, and tops for wall cabinetry.
Floor cabinets must leave a toe space of at least 3 inches in height and 2 inches in depth.
Utility cabinets must meet the same requirements as base and wall cabinets.
Doors and drawers must have means of closure and close without excessive binding or looseness. They must also be properly aligned.
All materials must comply with performance standards for rigidity.
Face frames must provide rigid construction.
Corner or lineal bracing must be applied to ensure proper rigidity and proper joining of various components where necessary.
All wood components must be dried at the time of fabrication in order to have a moisture content of 10 percent or lower.
All cabinetry materials must be suitable for exposure to grease, solvents, water, detergent, steam, and other substances usually found in the kitchen.
All exterior exposed surfaces and edges should be free of saw marks and other imperfections. They should be properly filled, sanded, edge-banded, and finished to match performance standards.
All exterior exposed cabinetry parts must have nails and staples set and holes filled.
All exposed construction joints must be fitted according to workmanship specifications.
Exposed cabinet hardware must comply with Builders Hardware Manufacturing Association standards for finishing.
In short, Woodmont Cabinetry is guaranteed kitchen-ready. Our cabinets are designed from top to bottom with long-term use in mind. We're proud to have received our ANSI/KCMA certification, and we promise to continue providing products of the highest quality possible.