Gene Eichenseer, V.P. of Sales & Marketing
Ask Gene what makes Woodmont Cabinetry special and he'll cite three 'greats': great people, great products, and great service. He says: "Our team really cares and wants to do their best for our customers each and every day. As a privately owned company, Woodmont has greater agility. This eliminates corporate bottlenecks, putting our focus where it should be – on the customer."
And Gene should know: he's been in the industry since 1985. After obtaining a Bachelor's degree in Marketing, and an MBA, both from Michigan State University, Gene worked for two of the largest manufacturers in the industry. He held leadership positions across all three major distribution channels: branch management, sales, and marketing. Gene joined Woodmont Cabinetry as the Vice President of Sales and Marketing in 2014.
Gene grew up on a dairy farm in western New York and married his high school sweetheart. They have four children and two grandchildren. In his off-hours, he spends time with family and follows college football. Gene played both college and semi-pro football and proudly supports his alma mater Michigan State – Go Green!
Fun Fact: It really is all in the family – Gene is one of seven children, and two of his brothers, Mike and Jeff, also have careers in the Kitchen and Bath industry.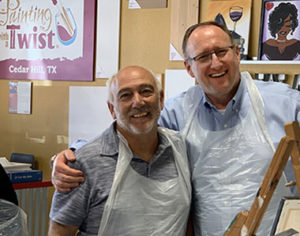 Gene Eichenseer (right)