10 Tons of Christmas Cheer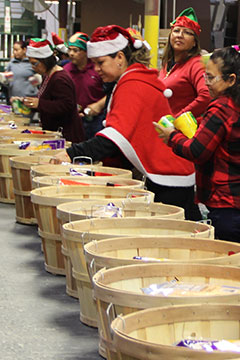 Whether you're Santa Claus delivering presents around the world or parents putting together toys on Christmas Eve, the holiday season requires a lot of logistical prowess to run smoothly. At Woodmont Cabinetry, we're well-acquainted with large-scale operations — whether its receiving inbound shipments of raw lumber or boxing and shipping truckloads of our custom-made cabinetry.
On December 21st, our hustling and bustling factory floor transformed for another purpose: our annual Christmas basket tradition. Utilizing our company transport, teamwork, community spirit, and factory floor, we gave back — in a big way — this Christmas.
First, we paused production at one of our assembly lines and cleared cabinetry components away. Then, Woodmont employees and volunteers (including many members of the Tidwell family) each took on a new job of their own: breaking down pallets, organizing food, and assembling baskets. We had over 18,000 pounds of food (that's 9 tons!) and over 2,000 cans (1 ton) of vegetables delivered in pallets.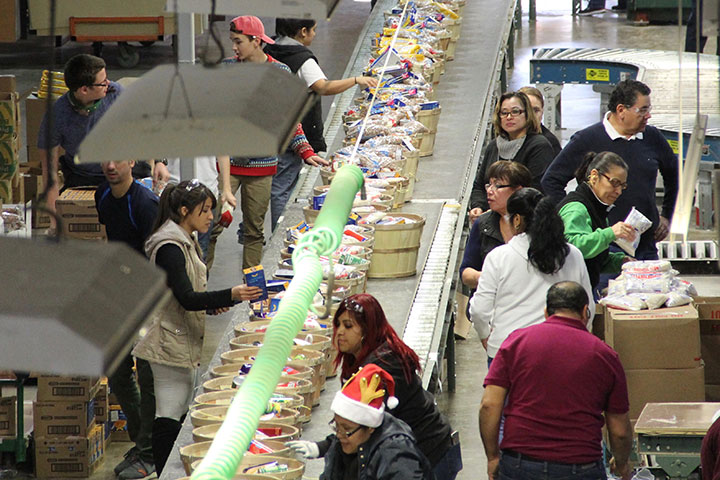 After Woodmont workers broke them down and organized the food, the assembly line put together baskets complete with everything needed for a traditional Christmas feast and more. This included a sizeable 14-to-16-pound turkey; packages of ground beef, sausage, and rice; beans, cheese, and veggies; and cookies for the kids (and Santa, of course!). In total, we produced 492 Christmas baskets for our employees and community members, including:
7,380 pounds of turkey
984 pounds of ground beef
984 pounds of bacon
984 pounds of sausage
2,952 pounds of rice
2,952 pounds of beans
14,760 corn tortillas
984 pounds of cheese
984 pounds of macaroni and cheese
1,968 cans of vegetables
492 large cans of peaches
492 packages of cookies
984 packages of cinnamon rolls
506 pounds of cookie dough
That's a lot of cheese balls and casseroles — and plenty of leftovers, too!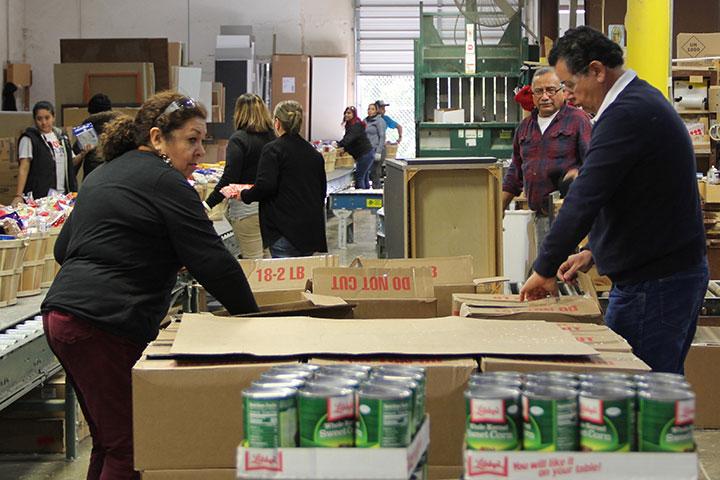 Thanks to the hard work of the Woodmont team, many families were able to enjoy home-cooked Christmas meals this year. At Woodmont, we believe that the true spirit of Christmas can be found in community togetherness and good works. We're thankful that our successes as a company allow us to give back at Christmastime and throughout the year. As we enter the New Year, we're excited to continue on with this tradition and many others with Integrity Ingrained™.