Make a Splash with Colorful Kitchen Cabinetry
A splash of color can make all the difference in home design — just ask our customers. Painted cabinets are an increasingly popular option for kitchens, and we've seen a steady increase from about 10% of our sales six years ago to nearly 40% of our sales in 2018.
Despite all of the eye-catching color trends popping up on Instagram and Pinterest (like navy blue cabinets, dark green cabinets, and even pale pink ones!), white remains the top-selling paint color at Woodmont Cabinetry for four years in a row. Whether your style is contemporary or traditional, you can't go wrong with the classic, crisp and clean all-white kitchen.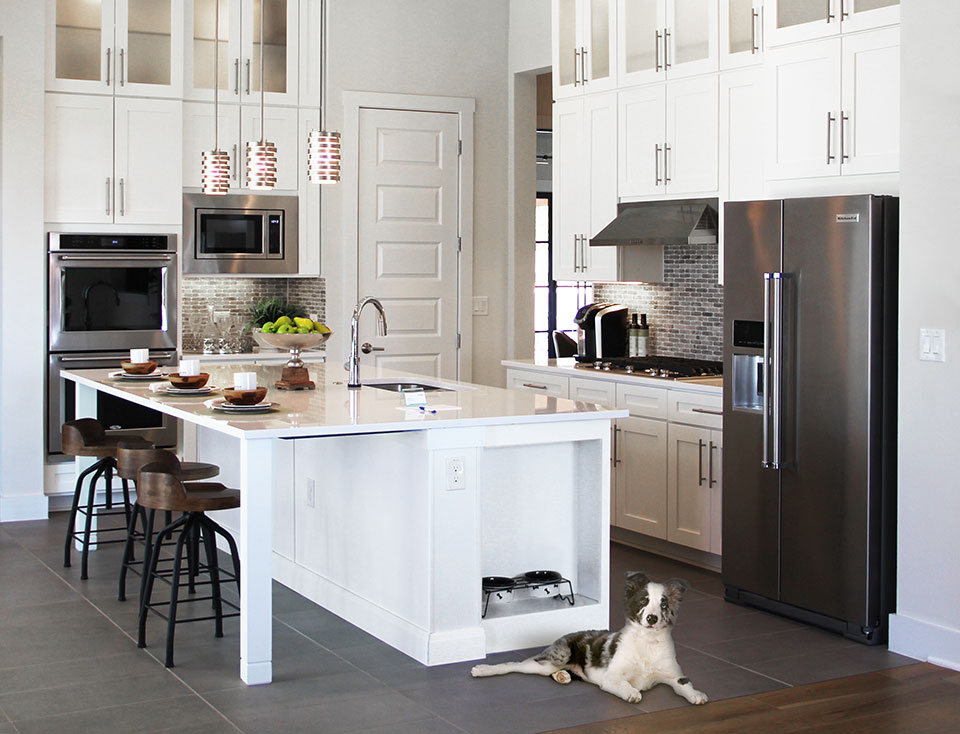 At the same time, painted cabinetry in all colors provides a clean, complete look, especially if your home already has rustic, wood grain-rich features, like hardwood flooring and furniture. At Woodmont, we offer six painted finishes to choose from: White, Antique, Featherstone, Pebble, North Sea, and Black Fox. Beyond white cabinetry, our customers are particularly drawn to classic neutral colors, such as cool and calming Pebble. In fact, Pebble-painted cabinetry sales have increased over 73% from 2017 to 2018. If you're considering Pebble for your home, you can peruse our offerings in our style guide.
So, why are people opting for more colorful kitchen cabinetry? According to a recent report by Zillow, homeowners are interested in taking greater design risks to express their personality or make a bold statement. In particular, tuxedo kitchens, or kitchens where the upper and lower cabinets are painted different colors, are expected to become even more popular in 2019. White cabinets have a stronger visual impact, for instance, when paired with a dark kitchen island (consider White + North Sea, or Pebble + Black Fox). Beware of taking your color story too far, though — kitchens with overly-specific colors (like bright red cabinetry) can wear out their welcome over time.
Looking to add a little color to your space? At Woodmont Cabinetry, we're committed to constantly improving our finishing techniques, quality, and color, which is why we visit the Sherwin-Williams Global Color and Design Center (GCDC) in Greensboro, North Carolina for a color review every year. We're always on the lookout for emerging color trends so we can continue to provide our customers with the most beautiful cabinetry available, no matter the color or stain.