Lab Tested, Nature Approved:
How We Earn The Industry's Most Coveted Seals of Approval
Lab Tested, Nature Approved:
How We Earn The Industry's Most Coveted Seals of Approval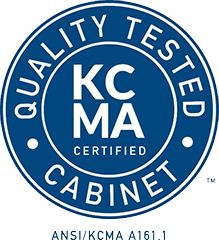 At Woodmont Cabinetry, we're on a mission to have the highest quality craftsmanship and the lowest possible environmental impact — and we have the certifications to prove it. We're proud of our involvement with the Kitchen Cabinet Manufacturers Association (KCMA) and their certification programs, but we realize that many people may not be familiar with these particular badges of honor.
Here are the basics:
High Quality Standards
The KCMA Certified Cabinet seal assures customers that our cabinetry complies with the rigorous construction and durability standards set by the American National Standards Institute (ANSI) and sponsored by the Kitchen Cabinet Manufacturers Association (KCMA). Earning the privilege to bear the blue and white seal on our products starts with initial cabinet testing by experienced third-party independent laboratories. To ensure that quality standards are consistently maintained, the process continues with additional periodic testing. Samples for this testing are selected during unannounced visits to our manufacturing plants.
The extensive testing process includes:
Five Structural Tests That Measure the Cabinets' Structural Integrity
Two Drawer Tests that Asses Stability and Smooth Operation During Normal Use
Two Door Operation Tests That Measure Durability
Four Finish Tests That Determine the Cabinets' Ability to Withstand Temperature Changes and Exposure to Detergents and Household Products
In other words, our cabinet finishes must stand up to extreme temperatures, vinegar, lemon, orange and grape juices, ketchup, coffee, olive oil, mustard and more!
A Badge of Honor
The ANSI/KCMA A161.1 Performance & Construction Standards program is referenced by U.S. government agencies, architects, builders, remodelers, and other specifiers. Woodmont Cabinetry is proud to be among the select group of cabinet manufacturers that bear the KCMA Certification seal. It means that our cabinets are recognized in the marketplace as quality products able to perform in a rigorous battery of tests that simulate years of typical household use.
An Intro to ESP (a.k.a Environmental Stewardship Program)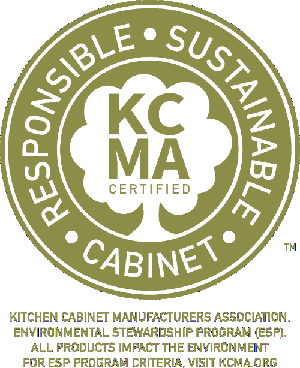 Also sponsored by the Kitchen Cabinet Manufacturers Association, ESP is the only environmental certification program that specifically focuses on kitchen and bath cabinets. This certification isn't easy to come by, but it's certainly valuable. Companies must display eco-conscious excellence in five categories
Air Quality
Product Resource Management
Process Resource Management
Environmental Stewardship
Community Relations
Air Quality
Product Resource Management
Process Resource Management
Environmental Stewardship
Community Relations
How We Ace Certification
We promote sustainability in every aspect of our business, from initial harvesting to our finishing process. We annually review our environmental practices to stay up-to-date on eco standards and new methods of restoring, recycling and protecting natural resources.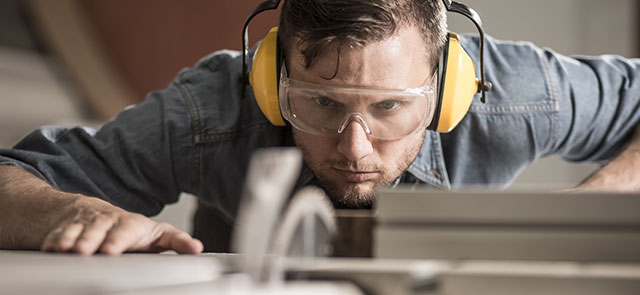 We're also rewarded for doing things like:
Finishing our products domestically, with low emission stains and varnishes
Sourcing our wood from sustainable forestry programs
Recycling wood waste to be used in other products like landscaping wood chips
Reusing our solvents to clean our factories and equipment
You can think of our ESP certification as an extra guarantee that we are doing everything in our power to be a "green" business. We're responsible for our environment and our communities—so the ESP standards are our standards, too.
For more on our "green" philosophy, head over to our Sustainability page.