The Benefits of Maple
The Benefits of Maple
Great products are made from great materials. Woodmont Cabinetry uses maple wood because of its beauty and versatility. An all-American classic, its smooth texture and color makes it ideal for painted and stained finishes.
MAPLE: Clean, Classic, & Versatile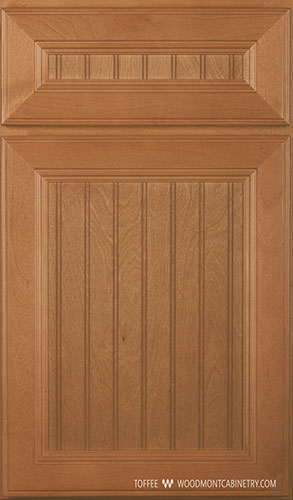 The Look: Grayish white to dark reddish brown natural wood tones with small pin knots, pitch flecks, and mineral streaks.
Maple's color changes as the wood ages and is exposed to sunlight, so cabinetry installed at different times won't necessarily match. Its subtle and refined grain pattern is more visible with lighter stains.

The Craftsmanship: Our maple is harvested in the cold-climate highlands of Pennsylvania then carefully air-dried and kiln-tried to preserve its brightness. With these extra steps, we ensure the quality and durability of every detail.

The Finishing Touches: Maple can be easily stained with a variety of finish colors to enhance its natural beauty.
Style, color, and maintenance are all important, as is climate; in dry climates, some cabinets may experience shrinkage, while humid climates can cause the wood to expand and develop fractures. This is normal, especially when working with natural, high-quality wood.