Our Roots, Our Growth, and Our Spirit
Our Roots, Our Growth, and Our Spirit
It all started in 1953 in Grand Prairie, Texas. In those days, we were known as Western Cabinets, a regional supplier of stock cabinetry. Eventually, Western Cabinets was purchased by our own Stanley Tidwell and expanded to a national market. One name change later, Woodmont Cabinetry was born. Today we are proud of both our humble beginnings and our lasting reputation for excellence.
No matter the year and no matter our name, our company always maintains two core beliefs: treat people right and offer a quality product at a good value.
We currently operate out of two state-of-the-art, fully automated Texas locations: a 150,000 square-foot manufacturing facility in Dallas and a 100,000 square foot facility in Cedar Hill.
Our principles are reflected in every aspect of our company, from how we craft our cabinets to how we treat our employees and our customers.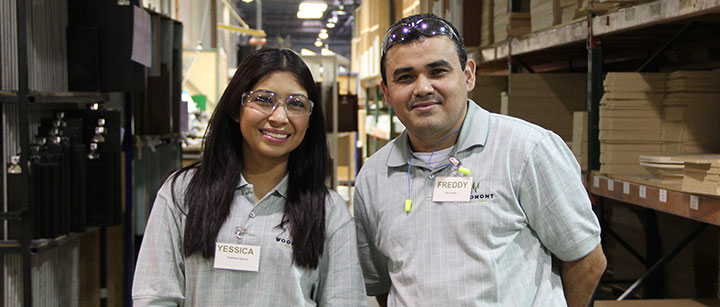 By committing to American-made materials and American labor, we keep jobs right where they should be—in our local communities.
By maintaining company-wide sustainability standards, we protect our environment, our natural resources, and our children's future.
Our family-run business has come a long way—and we've got our eye on the future.
In 2009, when the recession was in full swing, we needed a new coatings supplier that shared our high standards.
We decided to partner with Sherwin Williams and merge our craftsmanship with their remarkable paints. As a result, we launched a fresh new line of paints. The line is updated annually to reflect on-trend colors, but one thing never changes – our guaranteed quality.
This collaboration has been great for our community. (Located just 70 miles away, the Sherwin Williams distribution center is a Texas neighbor.) It also benefits our customers, as it enables us to offer even more unique customization options.
Today, we're known for staying steps ahead of cabinet color trends—and it's all thanks to our visionary partnership with Sherwin Williams.
That's our story—we can't wait to become part of yours!