Three Takes on Our Finishing Process
An important part of our craftsmanship, The Woodmont Collection finishes range from stains and solid color paints to accent glazes. Each highlights our cabinets in different ways, offering you myriad style options. Here, we explain some of the finer details of our finishes.
First Thing's First: When Do We Finish?
After selecting premium hardwood, we get serious about sanding using a combination of top-quality machines and hand-sanding. Then comes the finish line: stain, sealer, topcoat, and glaze.
1. Stains: The Au Natural Look
Stains enhance the natural beauty of each type of wood, including characteristics like wood grain, knots, and mineral streaks. These details can appear more prominent with light stains; dark stains will hide more of the grain, but provide a richer and more dramatic look. Our stains range from light to very dark and the color of a single stain may vary on different parts of the same cabinet.

Our staining process begins on a meticulously sanded surface so that the stain absorbs evenly. The stain is then carefully hand sprayed to showcase the character of the wood with a beautiful and pure color.
2. Solid Color Paints: Opaque Perfection
Painted cabinet finishes are popular for their clean, classic style and versatile colors that range from neutrals to bolder accent colors, like Black Fox. The paint effect is highly dependent on the type of wood: tighter grained woods will have a smoother finish while course-grained wood will show more grain texture.
Our paint finishes are applied to thoroughly sanded surfaces and joints to create a consistently opaque look.
3. Accent Glazes: Fun Focal Points
One step beyond the stain or paint finishing process, accent glaze is applied with a small brush on the corners and edges of cabinet doors. The Pewter, Cocoa, or Coffee glaze penetrates the cabinet to accentuate architectural details and complement the primary stain or paint color.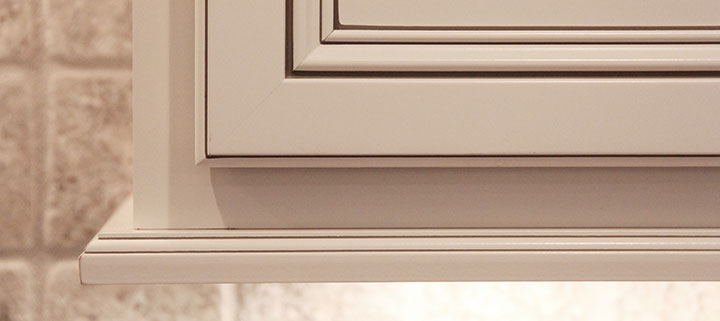 This finish process involves two different hand-detailed techniques—so no two doors look exactly alike. One constant, however, is that all accent glazes lend an artistic, visually interesting style to your cabinets.
Final Thoughts on Finishing Processes
Both the type of wood and your home's climate can lead to hairline cracks in finished cabinets. This effect can be minimized by maintaining constant temperature and humidity levels, but small variations in your cabinetry's appearance are normal and considered part of the natural beauty of the cabinet.
We love the made-to-order nature of our work, especially when it comes to helping customers choose between wood species or different finishes. Let us know if you would like more detailed information about any aspect of our finishing process.