Denny Varghese, Industrial Engineer & IT Support
Originally from India, Denny moved to the U.S. for school and never wanted to leave! He came straight to Woodmont Cabinetry twelve years ago, after graduating from UTA with his Master's degree in industrial engineering. "Everyone here made me feel welcome and taught me everything I know about the cabinet business," he says. Denny's arrival at Woodmont coincided with a time when the business was going through a lot of changes, giving him the opportunity to jump right in and make a difference early on. He enjoys tackling new challenges and coming up with inventive ideas for process improvement.
Because both of his parents still live in India, Woodmont's warm, family atmosphere is important to him. "The team is always here motivating you and supporting everything you do. They're like a family," he explains. In his free time, Denny likes to spend time outdoors, watch sports (especially the English Premier League), listen to music, and play with his golden retriever.
Fun Facts: Denny played table tennis for the state team – Go, Mavericks! And, he looks nothing like his twin brother.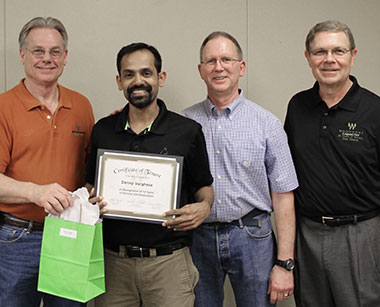 Denny Varghese (second from left)