Jeff Elseman, Facilities Manager
Jeff got in with Woodmont Cabinetry on the ground floor, back when Stan bought the company in 1992. It was his start in the cabinetry business, and he's never looked back. His favorite thing about his job at Woodmont is how it enables him to provide solutions to meet his customers' needs.
A family man himself, Jeff loves working for a business that mirrors his own values. He is passionate about spending as much quality time as possible with his loved ones — his wife of 38 years, two married daughters, two wonderful sons-in-law, his beautiful granddaughter, and, he adds, "a dog with extra-special needs."
In addition to spending time with his family, Jeff enjoys hunting, golfing, running, and following local sports teams. His most outdoorsy claim to fame? He climbed the highest peaks in both New Mexico and Colorado on the same weekend!
Fun Fact: An Aggie grad, Jeff was once a member of the Texas A&M Hide-and-Seek team!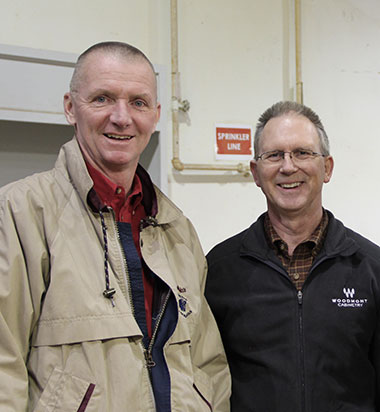 Jeff Elseman (left)