Roger Evans, New Product Development & Quality Control
A 38-year veteran of the cabinetry industry, Roger got his start working for a manufacturer of church and library furniture. In September 1998, he joined the team at Woodmont Cabinetry. Roger, who holds a BS in Business Administration from Kennedy Western University, says the best part of his job is "seeing something evolve from a thought on paper to an actual product going down the line." He also appreciates the positive, forward-thinking environment where his Christian values can be openly expressed without fear of criticism.
Roger and his wife of 38 years have three sons and five grandchildren. A Scout leader for an entire decade, today, Roger spends his free time teaching those same skills and values to his grandkids. He also enjoys working with longhorn cattle, riding 4-wheelers, and building or repairing useful items. Whether it's re-gluing a chair or building shelving, it gives Roger great pleasure to help others in this way.
Fun Fact: Roger and his wife, Patti, share the same birthday: February 17th.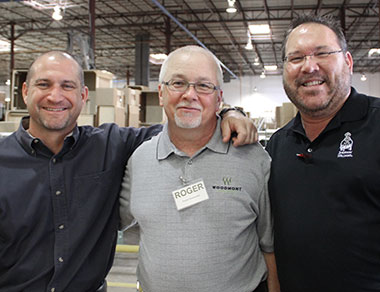 Roger Evans (center)