Woodmont Cabinetry Introduces New Blue Paint Finish, Adriatic Sea
For years, Woodmont Cabinetry has looked to nature for inspiration. Nature is full of surprising colors and textures, ranging from dark rich shades like Black Fox or neutral colors like our Pebble finish.
We know it's hard to beat the classics, like our brilliant White, inspired by fresh fallen snow, or the darker cream veneer of our Featherstone finish, inspired by river rocks. They're classics for a reason. They've stood the test of time and look beautiful with almost any design aesthetic you could imagine.
Sometimes, though, a splash of color is just the thing you need to bring a room to life.
That's why we're proud to introduce our newest paint finish, inspired by the vivid blue hues of the Adriatic Sea and carefully formulated with our partners at Sherwin Williams. This stunning shade of navy invokes a vast, expansive sea and the soothing sounds of waves gently lapping on the shore. Sailboats float lazily in the distance and small islands dot the shoreline in front of rugged cliffs and turquoise coves. It's like a seaside vacation without ever having to leave your home!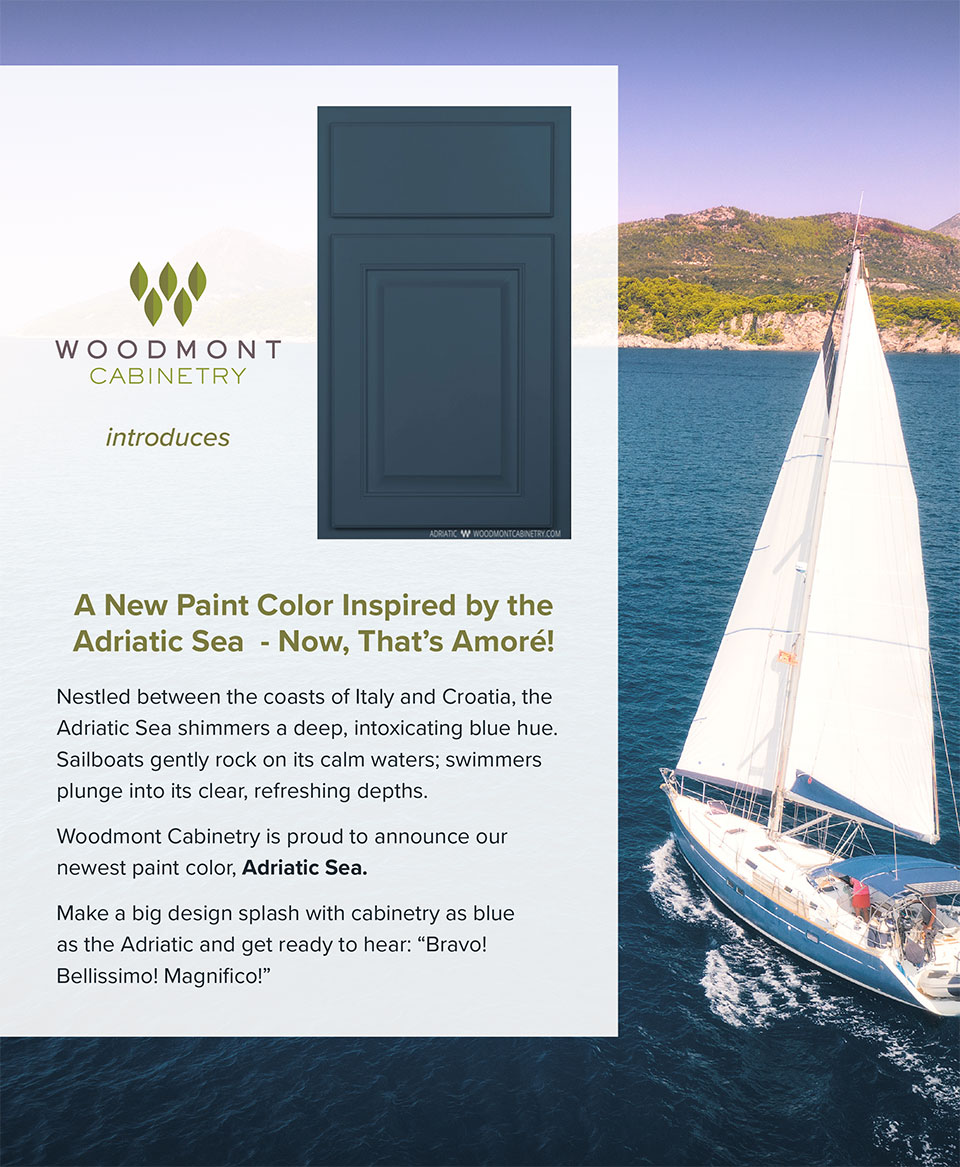 Adriatic Sea is a versatile color choice that can stand alone as a dramatic statement for all-purpose kitchen cabinetry or serve as a bold pop of color for a kitchen island. Embrace a stormy color palette by pairing Adriatic Sea with one of our grey-tone stains such as Ash. Or, make way for calmer waters and invoke a nautical theme in your bathroom or powder room.
You don't need to know the difference between port, starboard, and aft to add a coastal touch to your current kitchen or design your perfect seaside bungalow. Whatever course you set for your cabinet design, the Adriatic Sea awaits!