Adriatic Sea Cabinetry Makes a Splash in a Basement Remodel
Since the announcement of our Adriatic Sea cabinetry finish, we've had a tremendous response from designers, dealers, and homeowners across the country. In collaboration with Sherwin-Williams, the Woodmont Cabinetry team spends months developing and testing a new paint color before bringing it to market. That hard work is well worth the reward of seeing how designers and their clients use a new cabinetry color in their homes.
Swartz Kitchens & Baths, a longstanding dealer of Woodmont Cabinetry, recently shared this impressive basement remodel for a Mechanicsburg, PA family. Like many other families whose lives changed in response to the pandemic, the Shiley family suddenly required more from their home.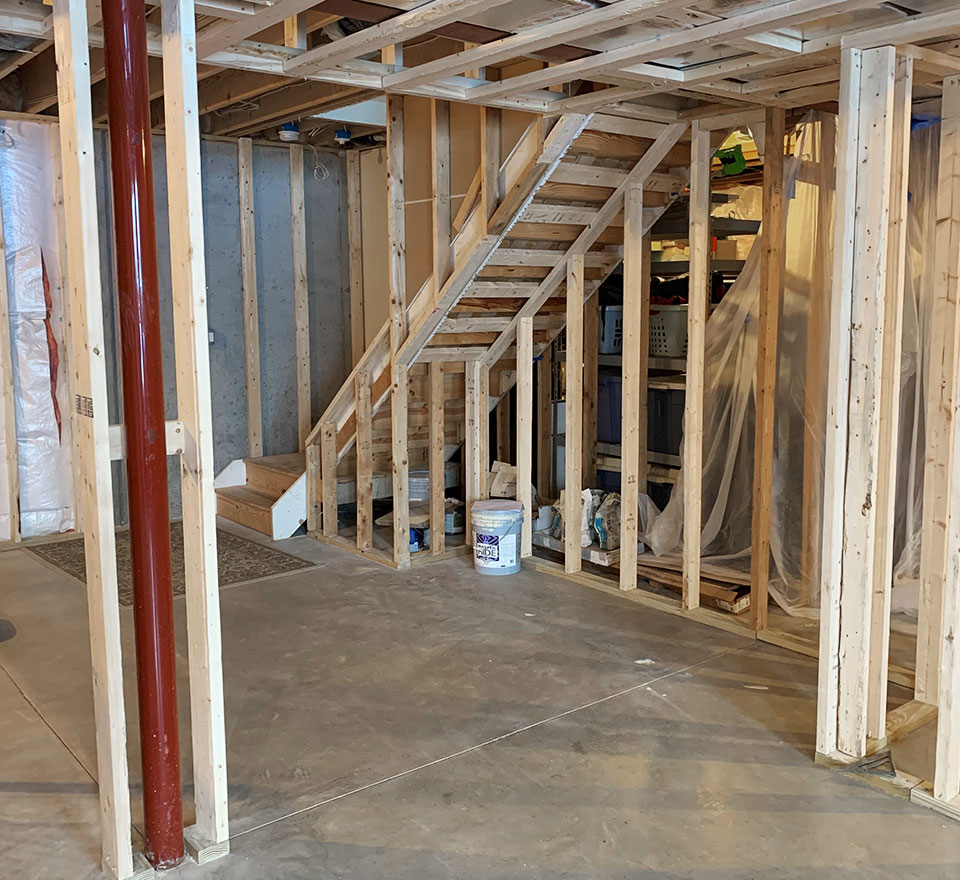 Leah Shiley, a principal at an architectural design firm, and her husband, Andrew, looked to the 800-square feet of unused space in their walk-out basement to create a home gym, expanded living space for their growing kids, and a kitchenette for movie and game nights, while still retaining a fair amount of storage space.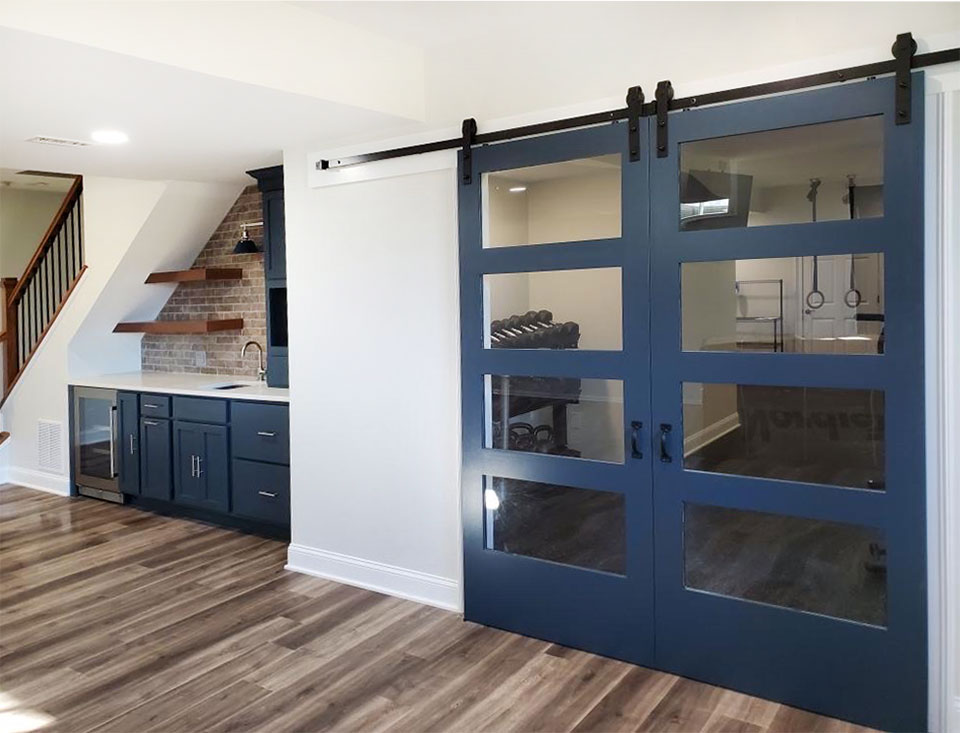 The home improvement industry has seen a significant uptick in basement remodel projects as families look to adapt their homes to the 'new normal' created by COVID-19. Basements have historically been overlooked (especially when it comes to cabinetry), but the "after" photos of this basement will inspire you to take a second look at yours.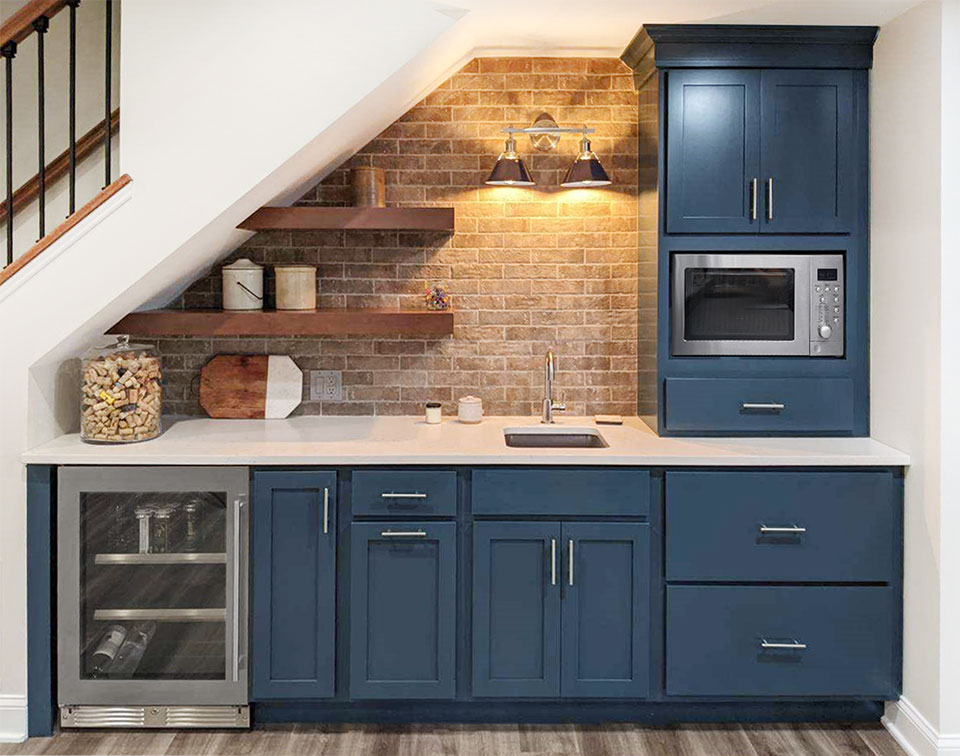 Bright white walls, Adriatic Sea cabinetry (a pop of color can transform the look of any room!), and ginger-stained open shelves create an airy, open feeling in this inviting basement that will serve as the Shiley family's second family room.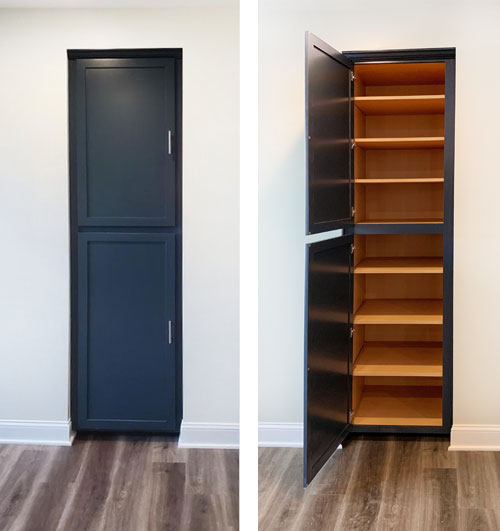 What we love most about this remodel (other than the Adriatic Sea cabinetry, of course) is seeing how one of our pantries was used to make the most out of this space. This stand-alone space used to be storage for an HVAC unit. Now, it has been transformed using our Adriatic sea pantry, as a board game closet. What a creative way to use a pantry, that neither involves food, nor a kitchen!
The kitchenette cabinetry was designed to accommodate a wine fridge and a microwave, so the Shiley family can enjoy their favorite snacks and drinks while entertaining or watching a movie together in their second family room. Open shelving with a ginger stain is the perfect complement to the blue cabinets on the opposite side of the stairs. This clever design trick creates an open feeling in small or awkward spaces, and eliminates the need for custom cabinetry.
All of the unique features in this basement remodel come together to create a cohesive, functional space. Shiley and her family are delighted by the end result, and excited to put their finished basement to good use.
We love seeing all of the different ways that our customers use colorful cabinetry to add style and personality to their homes. Did this Adriatic Sea transformation inspire you to dive to new depths with your own cabinet design? If so, contact your nearest dealer to get started today.