Tenure with a Twist
Every year at Woodmont Cabinetry, we celebrate our loyal employees with our Tenure Recognition ceremony. We are honored to have so many employees who have dedicated years of their careers to our company's mission. Their commitment has greatly contributed to Woodmont's success, and we are grateful to have them as an essential part our team.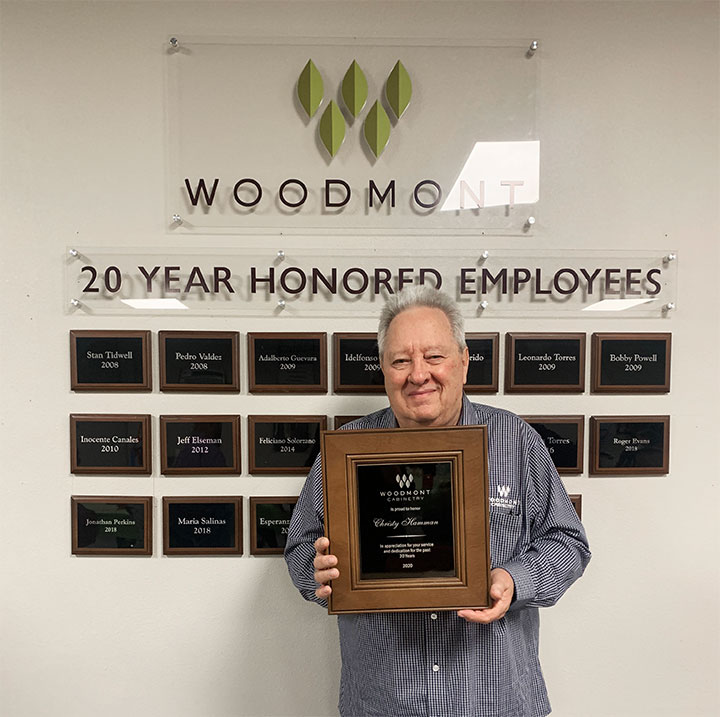 Similar to years prior, in 2020 we celebrated employees who have been with us for 5, 10, 15, or 20+ years, but that's about the only thing that was the same. COVID-19 and the events of 2020 required us to tweak all of our company events, especially the annual celebration for our 20-Year Club members.
It is our tradition to spend a day at a Texas Rangers baseball game with the members of the 20-Year Club (those who have dedicated 20+ years to Woodmont Cabinetry). We enjoy time spent outdoors, cheering on our favorite players while enjoying great company and delicious ballpark snacks. In the past, we've held our morning tenure ceremony and then attended an afternoon baseball game on beautiful spring days. Since we were in the early stages of a global pandemic this past spring, we deferred our celebration to the fall. Once we had a better understanding of how to celebrate and enjoy each other's company in a safe way, we planned a new kind of outing. After our Tenure Recognition ceremony and lunch, the Woodmont Management team joined the 20-Year Club for a creative celebration at a Painting with a Twist studio located near one of our manufacturing plants in Cedar Hill, TX.
At the event, each person painted their own version of a woodland scene to pay homage to Woodmont's company motto, Integrity Ingrained™. Most of us do not identify as painters, so this experience was one that brought everyone out of their comfort zones and closer together as a group. The coronavirus pandemic has required all of us to make adjustments, learn new skills, and adapt to different regulations. Painting with a Twist felt like a fitting way for our group members (with varying levels of artistry) to celebrate this unforgettable year and our longstanding working relationships. Who's the best painter in the group? The jury's still out, but, we did have lots of laughs teasing a few members of the group about "keeping their day jobs!"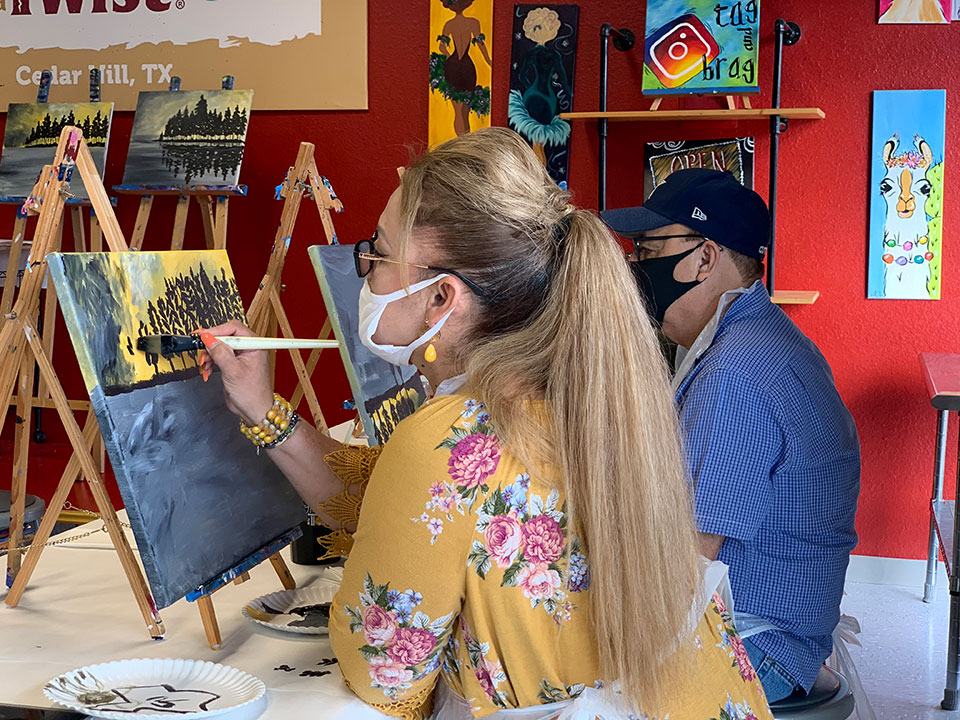 Although we missed our baseball game tradition, our Painting with a Twist celebration turned out to be a great event, reminding us we can always learn or try something new. We'll be carrying that knowledge with us back to our offices and the factory floors as we continue to work together in 2021.
We're always looking for new ways to show gratitude to our hardworking employees and honor the company culture we have built alongside them. In 2020, we started a series featuring personal biographies for a handful of the 20-Year Club members. You can find them on the Our Team page. Stay tuned for more employee spotlights celebrating the talents and accomplishments of this amazing group….