After 65 Years, We're Creating Our First Annual Top 10 List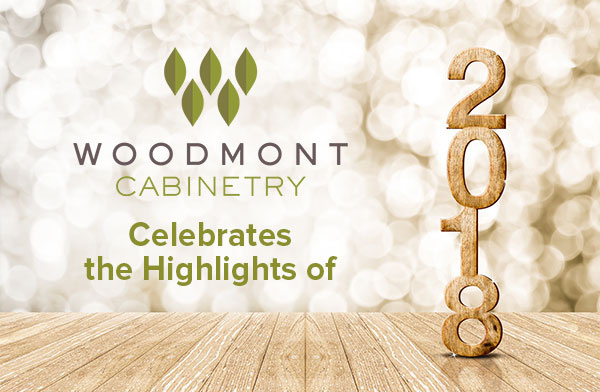 It was David Letterman's most celebrated segment on the Late Show. Casey Kasem loved countin' 'em down. There is something completely irresistible about a Top 10 list, isn't there? We're just wondering what took us so long! After celebrating a milestone anniversary last year, we thought it was finally time to compile our own list. And who knows? If it's a hit, we just may make it an annual tradition. Here are our Top 10 Highlights of 2018:
Celebrating a Milestone Anniversary: The first Denny's opened. Queen Elizabeth was coronated. And the price of gas was 20 cents a gallon. Looking back, it was a very special year for Woodmont Cabinetry too. Quick — can you name the year? In this post, we take a look back at how it all got started.

Acquiring a Sister Company: In his famous song 'Sisters', Irving Berlin wrote: "Those who've seen us know that not a thing can come between us!" And that's how we feel about our sister company, Grandview Cabinetry. This year, our senior management team worked closely with the folks at Grandview to upgrade equipment, implement new techniques, and introduce our sister company to some of our beloved company traditions.

Continuing Company Traditions: Awarding tenure certificates; congratulating scholarship recipients; creating Christmas baskets – these are just a few of the company traditions we look forward to every year. Hundreds of employees earned tenure certificates this year; 10 scholarships were awarded; and as for those Christmas baskets? We packed up 984 pounds of ground beef, 2,952 pounds of rice, and 1968 cans of vegetables, among other things! See how many baskets we made.

Expanding Our Office and Parking Lot: No matter how you calculate it – we're growing! In 2018, we started work on parking lot and office expansions. The new parking lot will add an additional 120 parking spaces. The fencing is almost complete, and we look forward to using it soon. Meanwhile, we're preparing to move our accounting department into newly expanded office space. By doing so, we'll make room for several more employees in our corporate office.

A Second Shift for Our Finish Line: It don't mean a thing, if it ain't got that swing…. Some people call it the swing shift; others call it the afternoon shift, but we simply call it second shift. No matter the name, we're delighted that things are swingin' on our finish line – all day and into the night! We were pleased to add a second shift finish line this past year.

Obtaining KCMA Recertification: Some call it "Alphabet Soup" – the strings of initials people put after their names. But in the right circles, seeing those PhDs, CPAs, Esqs and other honorifics mean a lot. In our industry, of course, the initials that matter are KCMA. And we work hard to keep them — each and every year. In 2018, we received KCMA recertification.

Developing New Finishes and Door Styles: Since 2009, we've been conducting annual color reviews with Sherwin-Williams to stay at the forefront of our industry as a leader in cabinetry finishes. In 2018, we spent months formulating new color possibilities for the Woodmont Cabinetry line-up. And what pairs beautifully with a brand-new finish? A new door style — that's what. Stay tuned because later this year, we'll unveil our newest offerings to our customers with a revised Product Positioning Guide.

Celebrating Customer Relationships: We love putting our customers in the spotlight — and with good reason. Their success is our success — we wouldn't be where we are today without these strong relationships we've built on a foundation of trust and integrity. This year, we featured customers across the map from Florida to Texas to Georgia to Pennsylvania. Meet our friends at Marble Today, Swartz Kitchens & Baths, Builder's Choice, and InTown Design.

Inducting Four New Members to the 20-Year Club: This year, our most prestigious 'club' grew by 25%! That's right — this year, we inducted four new members into the 20-Year Club, bringing our total number of employees with 20+ years of service to 16 people. Can you name at least half of them? Click here to find the entire list.

Making 'Integrity Ingrained' Our Very Own: We didn't invent integrity, but are working on securing the trademark. For years, "Integrity Ingrained" has been our unofficial motto; but in 2018, we filed the application to have it officially and legally recognized in the United States. Now that our application has been filed, we're well on our way to being officially recognized as the only cabinetry company with integrity deeply ingrained into our company's decades-long legacy.
As for 2019, we're already off to a great start. We look forward to sharing more highlights throughout the year and creating another impressive Top 10 list next year.